Monday, July 11th, 2005
---
4:34 am
If Anyone wants to hear my rants about Halo 2 add "HereIsYourCrap" to you LJ. OMFG, I hate MD.
Friday, April 22nd, 2005
---
8:15 pm
- Halo 2
Rawr, well, for all of you gal friends of mine out there, I have some news if you play X-Box Live. Me n my firend Natalie got together and made the clan Fashion Victims. This is gonna be a strictly girl clan, maybe one or two guys, and we are alwasy open for new members, whee.
(Bite me?)
Monday, April 4th, 2005
---
12:48 am
You are so highschool, it's highly amusin'. People like you give people like me somethin' to laugh and bitch about. Good job.
(Bite me?)
Monday, October 25th, 2004
---
12:12 am
- P.E. #5: P.E. # whatever: Robot Rodeo
Tuesday, August 17th, 2004
---
1:58 am
- P.E. #4: Sunburn
Ouchies!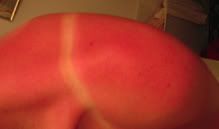 current mood: painful
Tuesday, June 22nd, 2004
---
12:17 am
- P.E. #3: Spider Attack (Part Two): Revenge of the Spiders
Tuesday, June 10th, 2003
---
9:31 pm
- P.E. #2: Story of my Sexism yesterday
Wednesday, May 15th, 2002
---
9:03 pm
- P.E.#1: Thankies
::glomp:: Thankies Adam for the Journal!!!

P.S. This is almost always friends only.